PROVIDING SAFE HOT TUB MANAGEMENT
Leisure time is increasing which results in more people enjoying the use of spas and hot tubs. In the UK hot tubs sales are growing at more than 20% per year, consequently more businesses and individuals are entering the commercial renting market and need to be aware of the legislation involved in their safe operation and attendant risks.
This boom brings with it a heightened risk of hot tub rash & Legionnaires Disease therefore new revised detailed guidance has been issued by the HSE.
Water
Sampling
Solway Water Management use only UKAS accredited laboratories for Legionella Testing and micro-biological water analysis.
Following sampling we interpret the lab results and explain these in layman's terms, and in the event of problematic results we will advise safe corrective actions in order to conform with current guidelines HSG282 & PWTAG.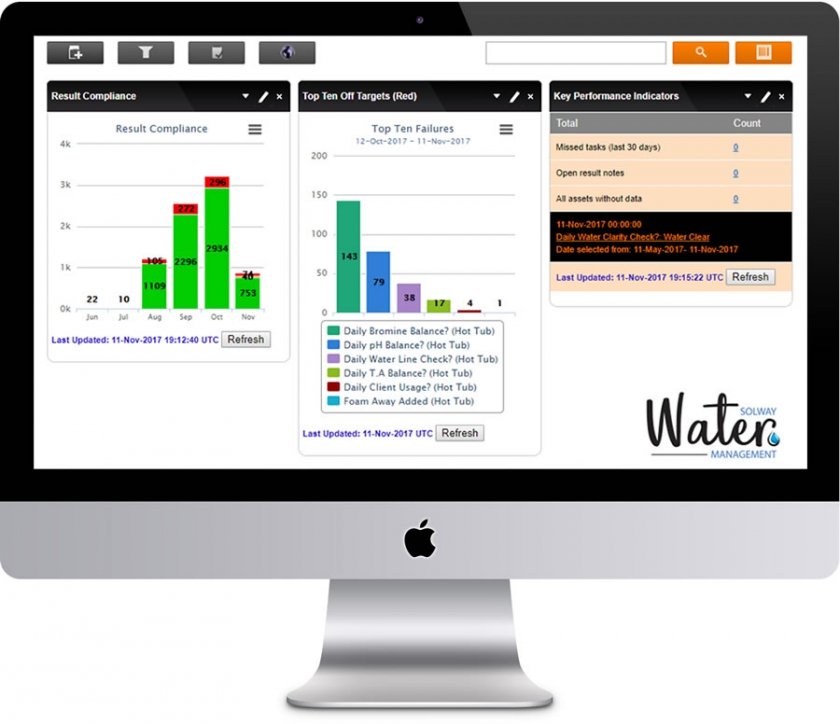 WHAT BACTERIA DO WE
TEST FOR?
WHY DO WE
TEST FOR THIS?
New guidance brought out for hot tubs in January 2017 (HSG 282) makes an emphasis on monthly sampling for the bacteria highlighted above.
Monthly sampling confirms that chemical checks are working effectively and killing harmfull bacteria, thus protecting guests from waterborne & airborne diseases.
ONLINE
MANAGEMENT
Our online management system is used in conjunction with an app that can be downloaded onto your smart phone or iPad, this then becomes an electronic log book eliminating the need for paper work.This allows owners to document every single task (with supporting photographs) providing an audit trail, crucial for providing evidence to the HSE, local authorities and courts if things go wrong.
ASSET
Barcodes
We use barcodes that can be discreetly hidden on assets and easily scanned by staff. Our software app creates schedules and reminders for chemical checks, water temperature monitoring, showers head cleaning..
Our system can also be used for file storage to help centralise all paperwork including risk sssessments, COSHH data sheets, microbial sample results, staff training qualifications, schematic drawings and gas safety checks.
the number one failing in legislation is not recording data!